YES WE ARE OPEN!
We hope this newsleter finds everyone healthy and ready to resume a little normalcy to their lives. There have been some major changes at our office but we continue to be available for you during our normal hours. Massage has also resumed with Niki and Martin and Acupuncture continues four days a week with Brian Choi. Please call well inadvance to make your appointment as we are continuing with spacing appointments out to avoid waitroom crowds. Standard risk briefings, sanitizing practices and physical distancing as much as possible will continue as we move forward. Thank you for being patient during this uncertain time! During some recent "spring cleaning" I came across one of my favorite versus from a Pastor from Texas. Seems extremely fitting to share and I hope you enjoy it!
We have joined up with Fullscript out of Scottsdale, Arizona, to offer you Professional Quality Supplements, Vitamins and Herbs from many different top of the line companies.
Simply order online and since Fullscript is located in Scottsdale, there is usually only a 1-2 day turn around time if you are currently living in the Phoenix metro area. If you are a snowbird, currently living in a different state at this time, no worries, you can still order, it will just take an extra day or two to get to you.
To set up your account, go to: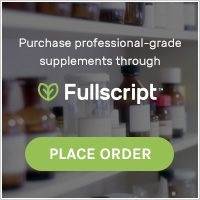 When ordering from this site you will always receive a 10% discount off the regular price. There are thousands of products to choose from and you can order each time you need something or set up Auto Shipping on products that you always use. Shipping is free for orders over $50.
So let's recap:
* 10% off your entire order, every time you order.
* Professional Quality Supplements, Vitamins and Herbs.
* Thousands of products to choose from.
* 1-2 day shipping time in Phoenix metro area.

You can't beat that!!!
ATTITUDE
The longer I live, the more I realize
the impact of attitude on life.
Attitude, to me is more important
than facts. It is more important than
the past, than education, than
failures, than successes, than what
other people think or say or do. It is
more important than appearances,
giftedness, or skill. It will make or
break a company - a church - a
home. The remarkable thing is we
have a choice every day regarding
the attitude we embrace for the
day. We cannot change our past -
we cannot change the fact that
people will act in a certain way. We
cannot change the inevitable. The
only thing we can do is play on the
one string we have, and that is
attitude - I am convinced that life is
10% what happens to me and 90%
how I react to it. And so it is with
you - we are in charge of our
attitudes.
-Charles Swindoll